CUSTOM SADDLE PRICING
BASE PRICE SADDLE starts at $4300.00 includes:
- Premium quality US tanned saddle leather - smooth out or rough out, Top quality wood rawhide covered tree dee ring rigged with stainless steel hardware
- Cheyanne roll
- Chestnut, Brown, or Russet saddle leather color
- 2" Nettles oak stirrups
- Premium quality US tanned leather latigo and off billit.
- Totally plain or tooled with a double line border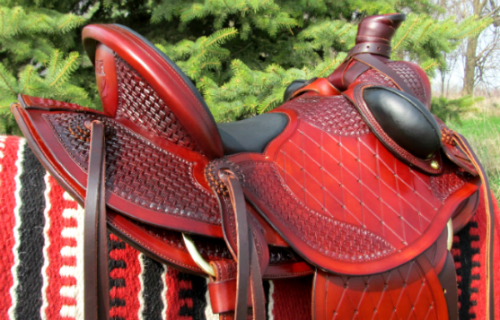 SOME CUSTOM ADDITIONS
TAPEDAROS 18" $395
BUCKING ROLLS $180
BRAIDED BACK JOCKEYS $65
BRAIDED SWELLS $65
HAND-STITCHED HORN COVER $50-$75
RAWHIDE HORN COVER (BRAIDED) $120
CORNER STAMPED $200
FINE CORNER STAMPED $275
FULL STAMPED $725
CORNER CARVED $800 + (CALL FOR QUOTE)
BORDER CARVED $1300 +(CALL FOR QUOTE)
FULL CARVED $2500+ (CALL FOR QUOTE)
CARVED HORSE HEADS $450
CLASSIC SCROLL BORDER $285
SAN CARLOS BORDER $265
PENDELTON BORDER $315
BARBED WIRE BORDER $180
SILVER CORNER PLATES $250/SMALL
$300/ MEDIUM
$340/LARGE
ALL BRASS HARDWARE $215
PLATE RIGGING $185
EXPOSED STIRRUP LEATHERS $165
BREAST COLLAR $275
HEAD STALL $165
SADDLE BAGS (Plain) $450
STIRRUPS
HAND-COVERED LEATHER $190
STAINLESS OR BRASS 4" MORAN $365
STAINLESS OR BRASS 3" MORAN $310
STAINLESS OR BRASS 2-1/2" VISALIA $260
STAINLESS OR BRASS 2" VISALIA $250
STAINLESS OR BRASS 1" VISALIA $225
STAINLESS OR BRASS 1-1/2" VISALIA $250
STAINLESS OR BRASS 1" OXBOW $225
PAYMENT OPTIONS

HOW YOU CAN OWN A JASON MCKENZIE CUSTOM MADE SADDLE
1. Fill out our custom order form and discuss details with Jason.
2. The total price will be determined.
3. Pay an $1500 non-refundable deposit . The deposit is required to hold
your place in the line up of saddle orders.
4. A copy of your order form will be mailed to you.
5. When we have your materials and saddle tree and your time slot is open,
we will contact you for the remaining balance. Please note that all custom
orders are pre-paid.
6. When we receive the remaining balance, your saddle will be completed
3-5 weeks from that date.
7. As previously agreed, you will either be contacted to pick up your saddle,
or your saddle will be shipped to you.
Thanks for your order!

~ Jason and Bethany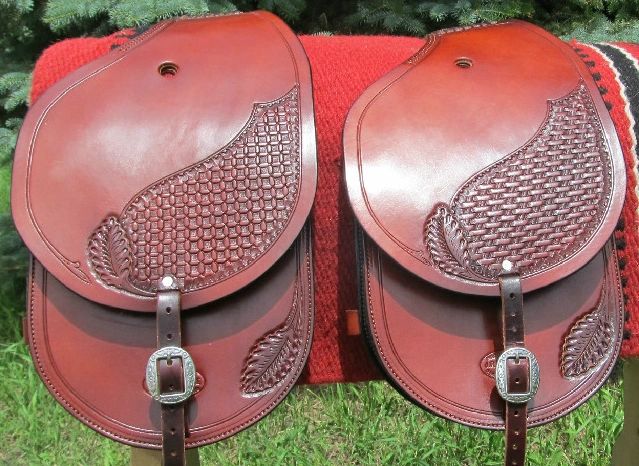 mCUSTOM MATCHING SADDLE BAGS WITH PARTIAL TOOLING APROX. $465.00