SADDLE FIT
Having a hard time finding a saddle that fits your horse? Call Jason today to discuss custom saddle fitting options. 605 651 9080
GROUND SEAT
There are two basic types of ground seats than can be built on a handmade wood/rawhide covered saddle tree. The strainer plate or the leather ground seat. The strainer
plate ground seat is made with shaped steel and leather, whereas the all leather ground
seat is built using only leather.
Jason builds most of his saddles with all leather ground seats. Roy McCaughey, developed his own type of leather ground seat and he carefully showed Jason how to build them. The groundseats are made with multiple layers of leather carefully positioned and shaped. They feel "broke in"
even when they are brand new and continue to shape to the rider over time. This provides a superior seat and allows for better performance and increased rider comfort.
SEAT TYPES
These are four different types of seats as follows.
1,Traditional Seat : This seat is all-leather with a hand-stitched bead roll.
2.Traditional seat with Inlaid Quilt:This seat is completed with a bead roll or Cheyenne roll and a small section of special material inlaid into the saddle seat for comfort.
3. 3/4 inlaid Seat: This seat is very comfortable and wears well. It is completed with a Cheyenne roll. Many horsemen have found that the 3/4 inlaid seat makes a long day in the saddle far more enjoyable. It is well liked!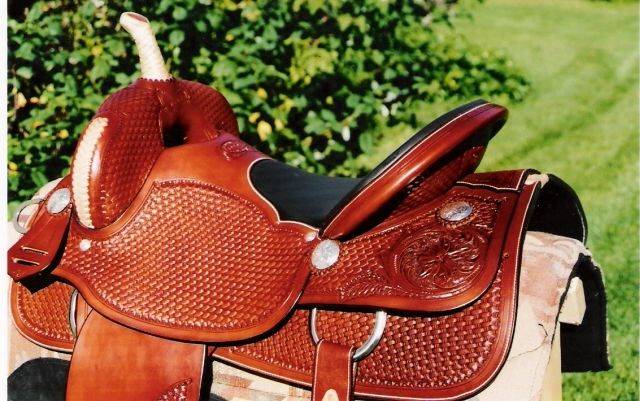 4. The Full Quilt Seat:This seat is very comfortable and is well balanced for both comfort and performance.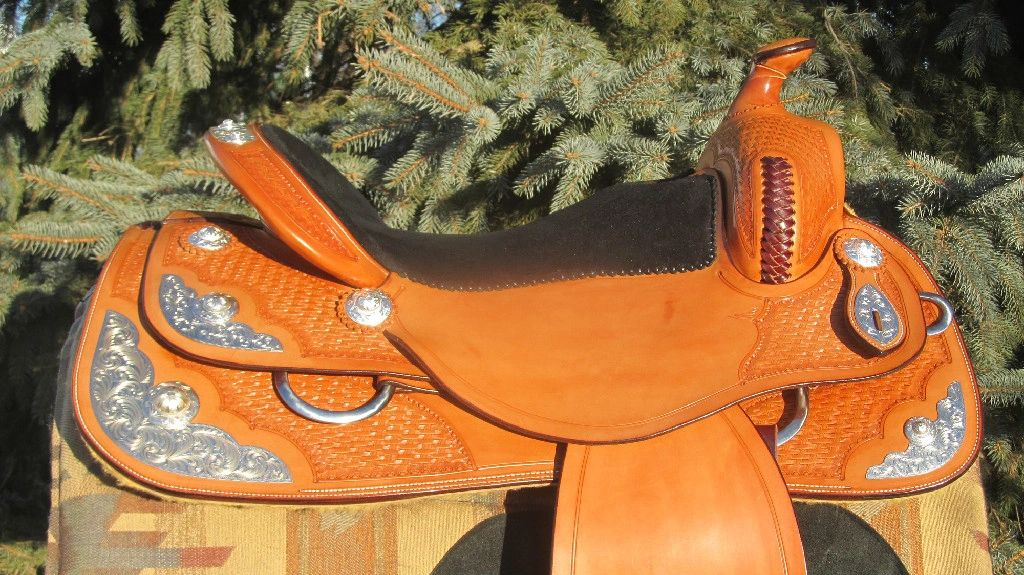 WEIGHT
Jason's saddles weigh aproximately 29-39 pounds depending on the type of saddle. Top quality leather is used and is available in chestnut, brown, and russet. A saddle that weighs less is easier on your back and your horses back! These saddles are built to work, to look great, and to last.
CLOSE CONTACT DESIGN
- Just between you and your horse -Quite a while back a horseman named Larry Nelles, who spent time with Tom and Bill Dorrance and Ray Hunt, started riding Roy McCaughey's saddles. Together he and Roy developed a method of saddle construction that would allow closer contact between horse and rider, but would not make saddles weaker or less durable. Jason has built upon this method over the years. You'll love this feature!
SKIRT LININGS
Two types of linings are available. The first option is the traditional, real, sheepskin lining. This type of lining works well and is an option
The close contact lining is the preferred skirt lining. It provides the best feel, function, and durability. Western saddle trees are designed to bear the impact and pressure of roping and the riders weight on the bars of the saddle tree. For this reason it is very important to have a saddle with properly shaped bars. This is also the reason why the cushioning material is only required directly beneath the bars rather than on the entire saddle skirt. This modification provides the best feel, makes cleaning easier, causes the blanket beneath the saddle to stay in place better, cushions the horse from the rider's weight, and wears much longer than sheepskin.