James Cooler is a great American horseman you can visit his website at coolerhorsemanship.com
Hi Jason,
I've been meaning to write to you all week, it's just been an incredibly busy week for us. First, all I can say about my new saddle is WOW WOW WOW WOW WOW WOW WOW WOW WOW!!!!!!!
I didn't ride in it the first day it got here because…..well, it was to perfect. I couldn't stand the thought of putting a scratch on it. Every time I do ride, I make sure to wipe it down.
The moment I did step into it the first time, it felt as though I had been riding in it my whole life. Unbelievable. So, thank you so much for providing me with a saddle that I will treasure for the rest of my life.
James Cooler NC, USA
"Jason,
Again, thanks for your workmanship on the saddle and the print!"
--- Jim Maddigan, British Columbia
"Dear Jason
Just a line to let you know the saddle is used every day and is admired by all, the Argentine trainer who works with
us is very impressed with the quality."
---- Beverley Warren, United Kingdom
"Dear Jason,
this is Jamie Evans just saying thank you so much its such an amazing saddle and i love it!!!!! And your drawing is fantasic i've framed it and hanged it on my wall. Again thanks the saddle looks really brilliant on my 2 horses and every other horse i've tried it on and all the beautiful tooling...many many thanks again...everyone that's seen it really loves it and wants one. thanks
once more!!!
----Jamie Evans, United Kingdom
Thank you so much for such a beautiful saddle!"
---- Deb Loosley, Alberta
"Hello Jason
I wanted to thank you for doing such an awesome job on my saddle. It fits all my horses
really well, and myself. You would not believe the comments I am getting. People seem
to notice it right away with the three toned leather. Anyway Jason keep up the great
work, you are truly blessed."
---- Cathy Fiedler, British Columbia
David uses his Association saddle for Team Roping and riding... "Hi Jason....the saddle is great."
---- David Symington, Alberta
Hi Jason and Bethany.
...I love the saddle!
..A friend of mine borrowed it for a cattle drive as she was having trouble finding a fit
for her horse. She fell in love with it, so much so she tried to get me to sell it to her!
Cheers and thanks again for everything,
---- Kathy Paterson, British Columbia
Stephanie is one of our many clients who used our saddle fit method to send us accurate measurements of her horse. Ask Jason how you can accurately measure your horse for a saddle that will fit! Its easy and it works!
Hi Jason,
I would just like to say thank you so much the saddle fits him perfectly, it is the only saddle that has ever fit him and he is just so comfortable working in it. All my old saddles have just slipped or been to tight due to his size and shape but this one stays right were it is put which is excellent for me and my horse. Also it is so beautiful I love it, it is better than I imagined it would be and it is so comfortable to ride in.
Many thanks
---- Stephanie Nicholls, United Kingdom
Jason:
I received my saddle right in the middle of a very nasty Alberta snow storm in April 2008. So much for riding that day. It took a good week for the weather to become nice and dry enough so that I wouldn't get lost in a bog !!!! I absolutely love my saddle. It was well worth it. Both Studley (my horse) and I are very comfortable. The change in him was very dramatic. Everyone who sees it thinks they just have to try it out. A friend of mine has begged me to leave it to her in my will.....You are truly gifted Jason. Keep up the beautiful work. Also thanks for the picture of Will James's Smokey. How appropriate.
---- Shannon Simmonds, Alberta
The Cowboy Association is my second Jason McKenzie saddle. I needed something that would fit both the Percheron crosses I ride in the mountains and my Arab QH cross. This saddle is fast proving itself very versatile and really nice to sit for hours at a time. It's light enough to throw off and on colts and still heavy enough that I don't worry about taking it to the mountains. Not to mention, it's the nicest looking saddle I've ever seen, bar none. My family owns eight of these saddles now and they are the only saddles we'll use.
---- Laramie Grinde, Yukon Territory
My saddle is a 16" Will James with all brass hardware and 3" Moran brass stirrups. I've had my
saddle on several horses: 2 registered Quarter horses, 1 American paint, and 1 American
Saddlebred. It fit them all perfectly. My Will James saddle is comfortable to ride 8-10 hours a day.
I thought long and hard about what type of custom saddle I'd get built; I wanted a saddle I could use
to sort and work cattle, rope, and start colts. It was expensive, but it was worth it because it will
last a lifetime.
---- Scott McKenzie, Alberta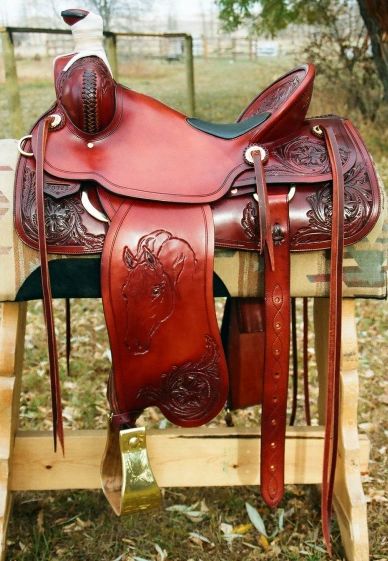 My Cowboy Association saddle fits a variety of horses very well. I've had it on my 16 hand rope horse down to a 15 hand high cutting horse prospect; it fits them all. The saddle fits me great. My wife rides the saddle as well and feels just as comfortable, secure, and balanced as I do. It gives her confidence and comfort so she wants to ride more often. I find the Cowboy Association saddle works for everything from pasture riding, roping and breaking colts,
to riding for pleasure.
P.S. Note to other cowboys -- don't let your wife ride your new custom saddle unless you're ready
to order a second one, because you wont't get it back. Learn from my mistake.
---- Nathan Matthews, Alberta
Questions: Call 780) 787-0512
Sandy asked for a saddle that would fit both of her horses. She lived too far
away from the saddle shop for Jason to measure and fit her horses, so she used our SADDLE FIT METHOD to send us measurements of each horse. Using those measurements Jason built her a custom saddle that fits excellent on both horses!!
Ask us about having a custom saddle built to fit you and your horses. Jason
can build you a saddle you'll be very happy with!
Hello Jason,
This last week, I rode in my wonderful saddle, 7 hours in one day. I just love it! Your close contact
design is Fantastic!.. Wide gullet, yet I do not feel like I have all this bulk between my upper thighs.
Very comfortable to ride, and I can feel my horse.. Most importantly, It fits my horse! My cinch does
not need to be to tight. It already has the feel of being a broke in, due to the design. Your carvings
are Amazing!! The detail goes on and on.. You carved the leather, underneath the Leather!..
Simply Beautiful!! You are an Artist, and A MAN Of YOUR WORD!! Thank you.
P. S. After owning the Parelli Ranch Roper, and Now Riding in a Cliff Wade Custom McKenzie
Saddle.. The Parelli's could learn about Freedom of Leg Movement, and The feeling of Close
Contact with the horse. Every little detail about being Finished Custom, On Time, and First Class!..
The Parelli's could Learn that from You Jason McKenize!. My Saddle that you made for me,
Is Awesome!
---- Sandy Register, California
Bob and Sherry Canniff ride Tennesee walking Horses and used Jason's saddle fit
method to have two custom saddles built to fit their horses.
"Sherry...Just so you know, I love my saddle. Everyone that sees it compliments its
constuction, look, and leather colors....and for me it fits like a glove. My horse and I are
both very happy."
Randy ordered a Cliff Wade saddle with some special modifications. He rides Quarter
Horses.
"Dear Jason,
Thank you for making the most beautiful, most practical saddle I have ever seen, and for
making it on schedule. I just received it today and have to try it on my horse, but my wife
thinks its too beautiful to use. So tonight its in our main entrance where we can just look at
it. I needed a Wade tree, but because of my bone condition I needed it light. You did
both of these. The special leather carvings I requested look great.
Also many thanks for the sketch. Great art work Jason.
Best regards,
Randy Pawliw"
Priddis (Calgary) Alberta, Canada
BJ rides a close contact Jason McKenzie custom made All Around saddle.
"Hey Jason!
BJ Tolman from Oklahoma here.... Just stopped in to say hello.. How
have you been? Great here..... My
saddle is still awesome and love it... Got some wear now, but feels
better than ever... Like i said a while back the picture you sent us
we have framed and on the living room wall of our new house... "
"Good Morning Jason:
The saddle arrived yesterday. It is great. I tried it last night, already have it dirty as it has been snowing
here, wet and muddy. You are right the seat felt great. Took a bit to get my center but did. It was
interesting, Shadow as soon as I set the saddle on her she started to blow and relax, after I stepped up
and started to move her around she was blowing and relaxing, dropping her head. I am really look
forward to less mud and see how collection will be for her. I think she is going to be a very happy girl.
Will send a picture of her when she is cleaner in her new outfit. This is her favorite time of year for mud
baths. So picture grey mare and mud, not very nice for a beautiful new saddle. Hope to get out tonight
again....."
Donna Bellerive
Alberta, Canada
"Hi Jason and Bethany
Thanks so much for the terrific job you did on my new saddle, I absolutely love it! It is very comfortable
and fits my horse well. I have been out riding in it every night since I picked it up.
Also, thank you very much for the wonderful sketch. You really are very talented. We will be framing the
sketch and putting it in a prominent place in our home.
I'm off to ride some of the squeak out of my saddle now, so thanks again and we look forward to picking
up Joanne's saddle.
Regards,
Dan Phillips"
Alberta, Canada
Craig ordered a Will James saddle and rides Quarter Horses..
Jason,
I want to thank you for the excellent job that you did on my saddle and what a surprise I had when I
received it earlier than expected. I have ridden in it several times and every ride, the saddle feels more
and more comfortable. I am riding 2, 3 and my 10 year old and it fits every horse very well. I am looking
forward to the first mountain trip as the ride will be that much more enjoyable.
Thanks again,
Craig Copeland